Disability-Inclusive Insight Informs Better Experiences for Job Seekers
Seeking a new job can be difficult, stressful and time consuming. This is even more so when you experience disability due to specific functional differences such as sensory loss, limited dexterity, mobility or neuro-divergent ways of thinking. Organizations are increasingly realizing that the disability community contains a large, often overlooked and untapped pool of valuably differentiated talent. Even as direct discrimination begins to ease and options open up, finding opportunities and getting jobs can still be unduly challenging for disabled applicants.
Online job portals can create a frustrating barrier between available talent and demand. Open Inclusion has been investigating how conversational voice interactions can bridge accessibility barriers for people with a range of access needs when searching and applying for jobs online.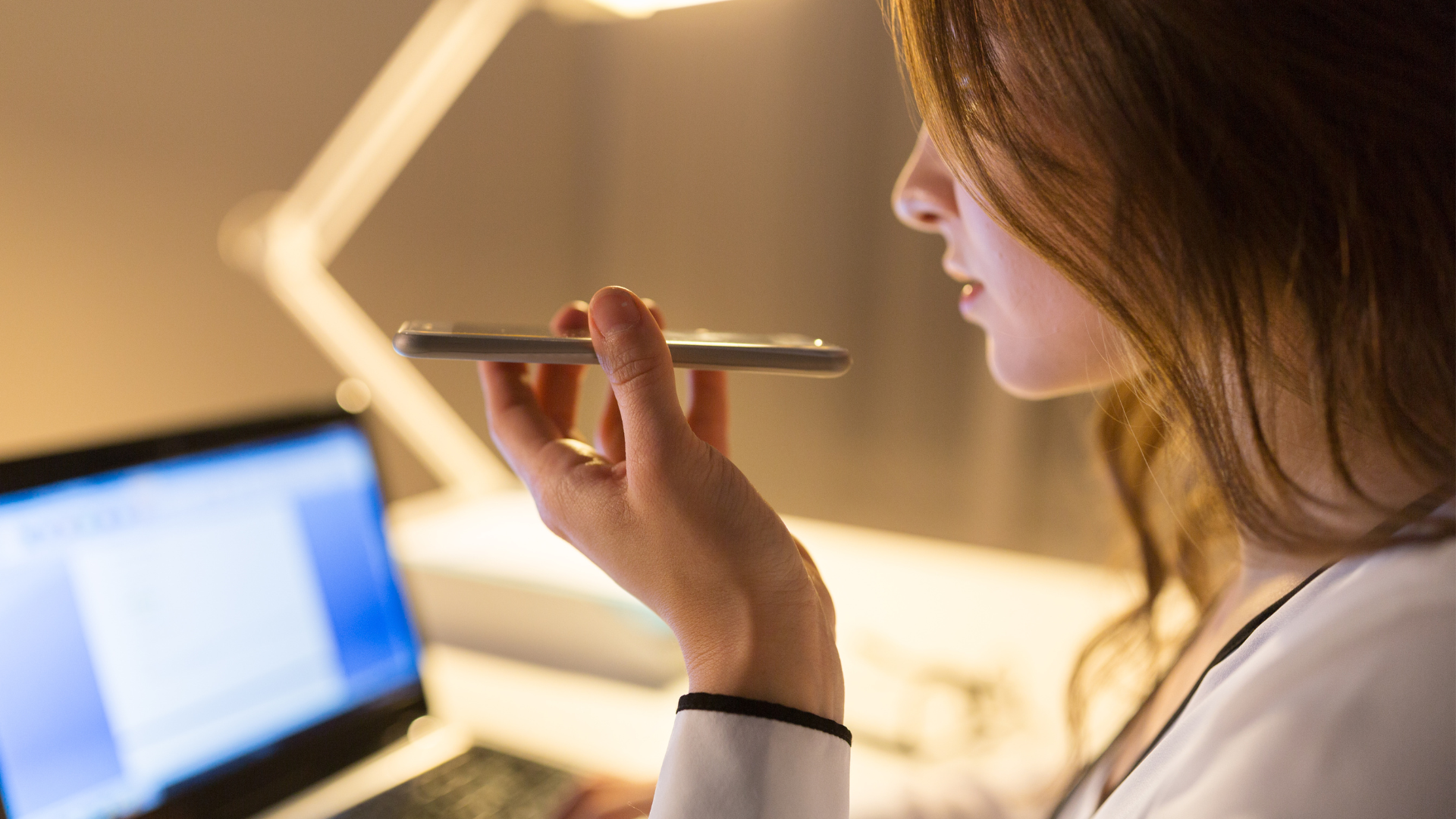 Collaborating to design better interactions enabled by voice
In November 2021, Open Inclusion was commissioned to provide disability-inclusive insight and participatory design for Zammo AI, an innovative, award-winning conversational AI platform. The goal was to test the value of voice interaction in the context of online job seeking. Through multi-layered, inclusive user research, we identified addressable pain points and gathered feedback on early stage designs. This helped Zammo ensure its solution addressed common challenges and was developed in a way that was desirable, practical and accessible to disabled job seekers.
Zammo's project was awarded a Microsoft AI for Accessibility (AI4A) grant to fund this research. The collaboration between Open Inclusion and Zammo, with funding support from Microsoft, brought together diverse experiences, skills and resources with the aim of advancing the opportunity of voice-enabled interactions.

Insight suited to the design challenge
Open Inclusion supported Zammo through its innovation journey with a range of inclusive user research. To ensure the end solution addresses unmet needs of people with disabilities, we engaged over 300 people with a wide range of experiences of online job search and disability. This informed a better understanding of the habits, specific needs, and challenges that disabled job seekers experience and enabled us to test out early stage solution options for co-design input and progression.
Research included two rounds of in-depth interviews with job seekers and experts, survey and design sessions to assess early-stage concepts, informed by the initial insights.
1. Understanding diverse job seekers' needs, experiences and preferences:
We started by running a small number of in-depth interviews. These helped us better understand key considerations and specific challenges in this design space through the perspectives of job seekers with disabilities and job search platform providers. It set us up to design a focused survey that would inform our understanding.
At this point, we identified that the initial target user base of those who are blind or have low vision was only one part of the broader disability community that could benefit from conversational user interactions. Informed by the disability community, we were able to broaden our scope to include pan-disability engagement. We found that many sub communities, including those with a range of sensory needs, mobility or dexterity challenges, restricted energy and those who are neurodivergent, could benefit from well-designed voice interactions when searching and applying for jobs.
Using a survey conducted through Open Inclusion's pan-disability insight community in the USA and UK, we engaged just under 300 respondents who had recent experience seeking jobs online. This robustly evidenced the needs and opportunities for disabled people when searching and applying for jobs online.
The survey showed significant interest in adopting voice UI in online job search and application tasks from people with a range of disabilities . Ninety-five percent of respondents in the USA and 71% of respondents in the UK felt that voice solutions could make these tasks easier for them.
It also highlighted the deep frustration and persistent challenges with current job platforms and processes. Forty-nine percent of respondents had abandoned job searches or applications on mainstream job platforms for a wide range of reasons. These included; a lack of applicant-relevant information about the role, overly complex application processes, inaccessible platforms or websites or a lack of inclusive communication options to learn more about role requirements and how they may suit participants.
The survey broadly highlighted interesting trends and responses. We conducted a further, slightly larger series of in-depth interviews at this point across the USA and UK to dive more deeply into these findings and discover relevant threads of feedback.
From these insights, we were able to evidence needs and preferences to inform and collaborate with Zammo in an ideation session that started to outline four solution options.
2. Testing and iterating design concepts:
Next, we came back to design and facilitate in-depth focus groups based on Zammo-designed testable prototypes. In these groups, we engaged with current job seekers who had a range of access needs, including sight loss (50%), mobility and dexterity needs (40%), neurodiverse (11%), mental health needs (10%), chronic health needs (17%) and carers (6%).
Of the four design concepts, although participants felt all would improve the job search process and increase their likelihood of getting a job, one was significantly preferred to the others (more than twice as many participants felt that they would find this really helpful). This was the intelligent application assistant, a voice based interaction that could guide job applicants and help them provide responses that were error free, well aligned to the questions and provided the desired sentiment.

Interesting insights
The research demonstrated that there is a compelling need for improvements in the accessibility and usability of job portals specifically, and online job search and application processes more broadly. This is true across different access needs and geographies.
"It would be great if the websites were accessible and easy to use. It is much easier to navigate applications when the layout is simple versus being fancy."
Participant with low vision, USA
"I could not work out how to make an account."
Participant with mobility/dexterity needs and a chronic health condition, UK
Interest in conversational UI increased if it was available across various tasks of the recruitment process, especially in search and application stages.
"Voice assistants could go a long way in making this process easier."
Participant with low vision, USA
"With a voice assistant I would be able to give the same information to multiple organisations/sites, etc. It would be easier to give information, quicker to make an initial approach where I could find out if they thought I was a good fit or had a chance before I put hours of work in."
Participant with limited dexterity, UK
"Yes, voice interactions would be helpful as I struggle personally with both remembering and typing for any length of time."
Participant with a chronic health condition, UK
In summary, our research showed that a well-designed AI-enabled conversational assistant would make it easier for job seekers with disabilities. This is due to the needs-based friction and access barriers that exist in job portals today and the potential for voice interfaces to positively address these issues.
The changes most desired through this additional interaction option included:
Freedom from the keyboard

Easier filtering of suitable jobs

Increased ease, efficiency and accuracy for filling in applications or other information

Having a "digital friend" or virtual assistant to help navigate the process
Many people have already experienced voice UI through their use of conversational assistants in the home, in the car or on devices at the OS level or increasingly in-app or in-experience options. These experiences have made them aware of the possibility and potential of voice interactions, but also of the limitations and friction if they don't work as intended. These are addressable challenges for effective conversational assistants, especially in the important realm of job application.
"If I were to dictate my answers, the technology might not understand me correctly which could leave me editing the answers – which is time consuming – or accidentally put a wrong answer and make my application [un]successful."
Participant with low vision, USA
"[I have] Privacy concerns in relating to the processing of the voice data. [Also] You might not want to apply via voice depending where you physically are at the time."
Participant who is a wheelchair user, UK
Voice assistants would also not necessarily work equally well for all so they would need to be an option rather than a requirement.
"Speech impaired people will be greatly disadvantaged."
Participant who is deaf or hard of hearing, USA
Designing an open-source conversational assistant solution that any portal could adopt, as Zammo and Microsoft are doing through this AI for Accessibility program, would be positively impactful and a very efficient way of addressing accessibility and disability-inclusion challenges that currently exist.
"I think it [a conversational voice assistant] can help ease the stress and burden of job searching."
Participant with low vision, USA
Inclusion-led innovation in practice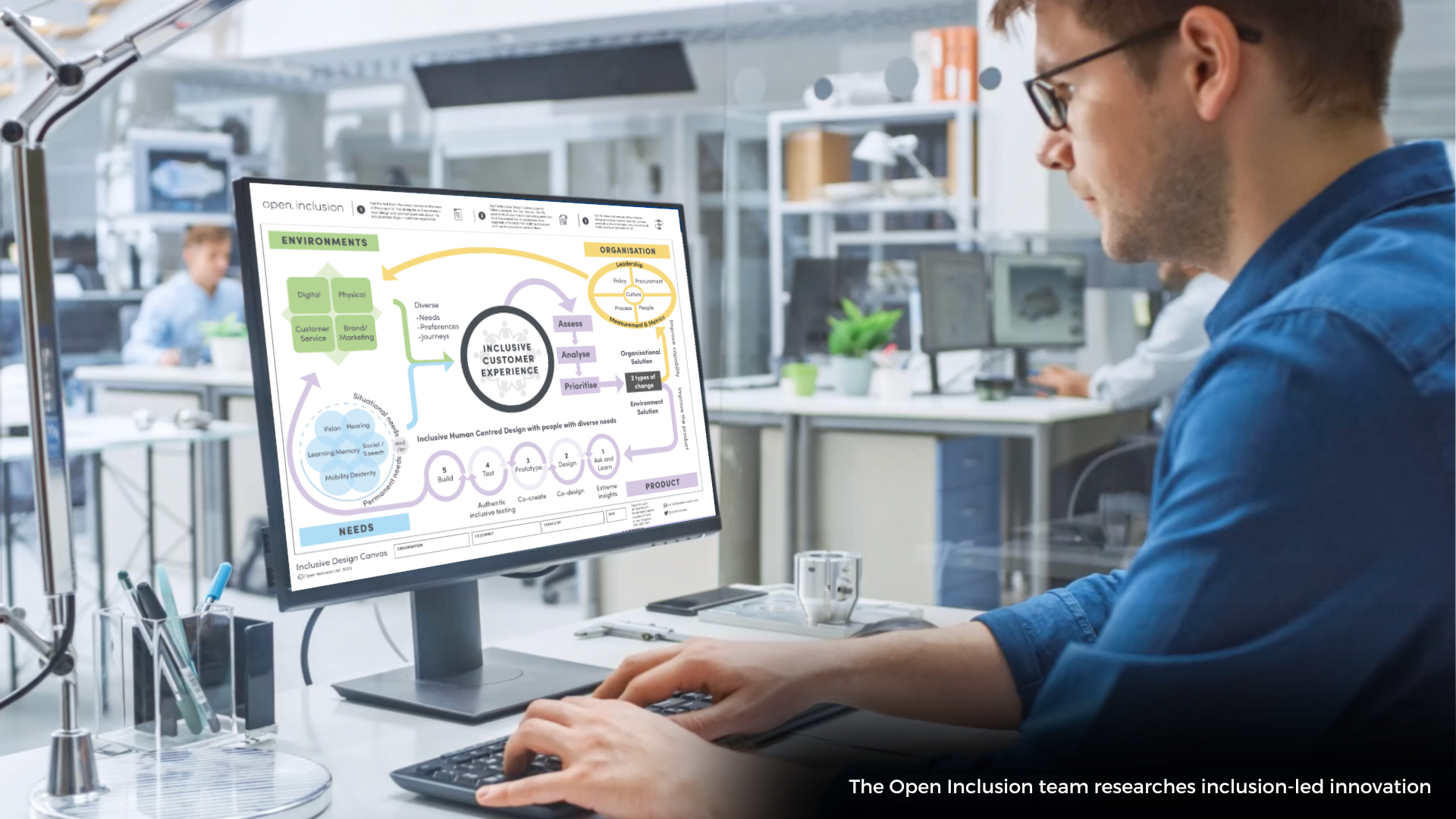 Open Inclusion's approach informs each stage of research with the most efficient and practical "fuel" of diverse insights. It layers disability-inclusive insight using mixed methodologies (quantitative and qualitative) one format at a time to build a valid evidence base for design directions and decisions. This allows each set of findings to be optimized for what the innovation team require at that point.
We co-create the research and test the approaches and research materials with our community leaders from each of the seven major sub-communities (sight loss, hearing loss, mobility/dexterity, chronic health needs, mental health needs, neurodivergence and 'just getting older'). This ensures that needs and preferences of each group are considered and designed for in our research.
This approach and set of practices supports evidence-based decision making. Decisions that are founded on sufficient breadth and depth of insights to inform the focus, functionality and final design of a solution. Solutions that adopt this approach are likely to be more differentiated, innovative and successful in market. We truly hope and expect that this is the case for Zammo as they go on to create an accessible and viable voice UI for online job seekers.
Are you interested in inclusive insights, design or innovation?
If you are interested in learning more about inclusion-led innovation, disability-inclusive research, or the adoption and inclusive adaption of emerging technologies, please reach out to us at contact@openinclusion.com.
Eager to learn more? Check out our videos showcasing how Zammo's no-code platform is revolutionizing business for enterprises and government agencies.